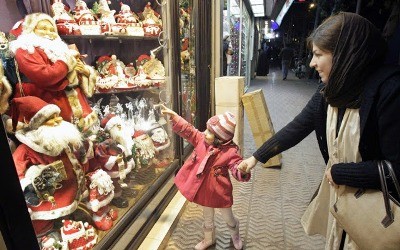 Tehran, Dec 31, IRNA – Armenian Christians, living in Iran, unlike Christians in other parts of the world who celebrate Christmas on December 25 each year, commemorate the birth of Jesus on January 6th.
In the same way, Iranians get ready each year to celebrate the Norouz holidays and gather around Haft Sin, or "Seven S's" table, on the first day of Norouz, the Christians in the Islamic Republic feel quite free and safe to go Christmas chores, including shopping as well as decorating the Christmas tree as a symbol of everlasting life with Santa Claus on the streets wishing a happy new year for the people.

The happy, jubilant atmosphere of the Christmas festivities could be felt not only in the Armenian neighborhoods, but also in many other parts of the capital Tehran as the spirit of festivities seem to conquer everybody.

'Iranian culture has simply absorbed the Christmas, and the Christmas festival belongs to all Iranians,' said Adis Issaqolian who works as a reporter for the Tehran-based Armenian news daily, Alik (English: Wave), according to the Persian-language Iran newspaper.

'We also receive happy Christmas messages from many of our Iranian friends and acquaintances,' Issaqolian said.

The Christmas Day celebrations in Iran have a longer history even compared to Europe, he said.

'We Armenians have lived in this country at least for the past one thousand years and we have freely celebrated the Christmas and the Iranian families have joined us in the festivities,' he said.

Issaqolian also said that the Christmas has become a part of the Iranian culture.

'Iran does not defy other cultures, and that is why many ethnic and cultural groups happen to co-exist peacefully in the country together,' he said.

The Christmas trees embellished with garlands, ornaments, and tree toppers, shine these days in Armenian neighborhoods both in Tehran and other cities with Christian communities.

With no panic or terror, Santa Claus joyfully says happy Christmas to the people on the street and the Christian people feel free and safe to join family banquets to eat and have a happy time.

Sure enough, they are observing the New Year and their religious festival in a country where they do not need to be concerned about all the horror putting at risk their peaceful ceremonies.