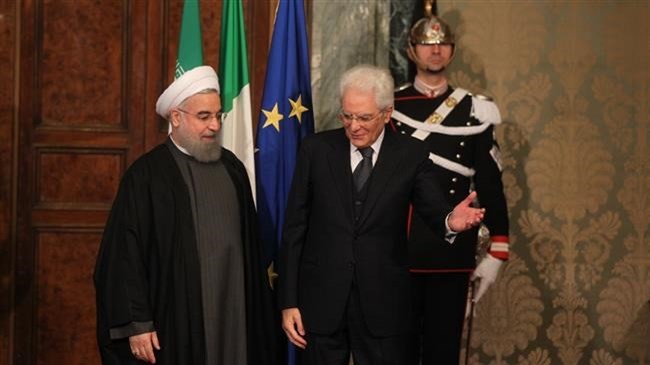 Iran's President Hassan Rouhani, in a meeting with his Italian counterpart in Rome, has described terrorism as the main plight afflicting the Middle East region, warning that an unstable Middle East will also adversely affect European countries.
"Without comprehensive and firm cooperation, terrorism cannot be uprooted and undoubtedly if the Middle East turns into an unstable [region], its detrimental consequences will reach Europe as well," Rouhani said in a meeting with his Italian counterpart Sergio Mattarella in Rome on Monday.
He added that the existing problems in some regional countries can be settled through political and not military approaches.
"Iran and Italy, as important players in the Middle East region and the European Union respectively, can have effective and constructive cooperation in a way that guarantees the interests of two nations, the region and the world," the Iranian president said.
Rouhani lamented that some countries are not resolute on the fight against terrorism and added, "Unfortunately, there are countries in the region that seek to use terrorism as a tool in order to fulfill their own short-term political interests in the region."
The Iranian president stressed the importance of making efforts to end certain countries' political, financial and arms support for terrorists.
This comes as the terror group Daesh has found its way into Libya raising grave concerns among Italian officials in the African country's neighborhood. The group, wreaking havoc in Iraq and Syria, has many parts of those countries under its control. Hundreds of the European nationals have joined the ranks of Daesh. 
Time ripe for making up for lost chances: Rouhani
Rouhani further said Tehran and Rome enjoy a great potential to improve relations following the implementation of a nuclear agreement reached between Iran and the P5+1 group of countries, dubbed the Joint Comprehensive Plan of Action (JCPOA), last July to serve the two nations' interests and promote regional and international peace and stability.
The Iranian president said the two countries failed to properly use mutual opportunities and capacities over the past years due to "unfair and wrongful sanctions" but "it is now time to make up [for lost ground]."
Iran and Italy can expand their broad cooperation in the various fields of energy, industry, mining, agriculture, scientific and cultural exchanges as well as modern technologies, he said.
On January 16, Iran and the five permanent members of the UN Security Council – the United States, Britain, France, Russia and China – plus Germany started to implement JCPOA.
After JCPOA went into effect, all nuclear-related sanctions imposed on Iran by the European Union, the UN Security Council and the US were lifted. Iran, in return, has put some limitations on its nuclear activities.
Diplomacy best option to achieve lasting peace: Mattarella
The Italian president, for his part, said his country believes that diplomacy is the best approach to sustainable peace.
He added that terrorism is the biggest threat to international community and urged constructive and comprehensive cooperation to counter it.
Mattarella said various Italian industrial and trade firms are eager to cooperate with Iran following the implementation of JCPOA and added that Rome seeks to invest in Iran to make up for the lost opportunities as a result of sanctions.
At the end of the talks, the Iranian president invited his Italian counterpart to visit Tehran which was welcomed by Mattarella.
Rouhani arrived in Rome on Monday at the head of a delegation of more than 100 businessmen and ministers on the first leg of his trip to three European destinations following the implementation of JCPOA.
He will also hold talks with Italian Prime Minister Matteo Renzi and travel to the Vatican to meet Pope Francis before travelling to France on Wednesday.