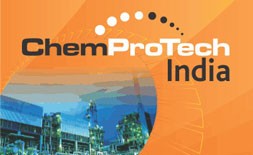 Bombay Convention and Exhibition Center (BCEC) | Mumbai , India | 07-08 Apr 2016
I like ChemProTech India because it is a leading Exhibition on Chemical Processing Technology, Equipment & Supplies. Meet the most unique platform of the Chemical Industry where the best of the products, process technologies & services all are showcased under one roof. It will provide an excellent platform for the entire India & International Companies to showcase their latest equipment's & technologies to the most emerging country of the world & the 3rd largest producers of chemicals in Asia. ChemProTech India is truly an astonishing Trade Show, Fair and Exhibition that will cope with the topics of Chemistry, Chemical Processing, Chemical Technology and Chemical Equipment and a lot more. ChemProTech India will be held concurrently with International Exhibition on Fine & Specialty Chemicals (Chemspec India) and International Exhibition on Chemical Warehousing, Transportation & Logistics (ChemLogistics India) to fulfill the demand of every growing chemical industry.
Exhibitor Profile ChemProTech India 2016:
CHEMPROTECH INDIA welcomes reputable brands, professional services providers and distributors in Chemistry, Chemical Processing, Chemical Technology and Chemical Equipment segments. It provides to show a comprehensive selection of goods and professional services to:
Process Equipment &Technology
Automation &Control Systems
Safety &Quality Management
Packaging Technology
Others
Visitor Profile ChemProTech Mumbai 2016: 
Chemical
PetroChemical
Find & SpecialityChemical
AgroChemical
Chemical Intermediates
Pharmaceuticals
Fertilizes Intermediates
Process Equipments
Oil & Gas
Professionals from the chemical and process industries
Engineers,Technocrats,Scientists
Marketing Heads,Sourcing Heads
Trade Delegations from India and overseas
Manufactures & Suppliers
Dealers,Retailers & Traders
Product Categories of ChemProTech India 2016:
Process Equipment's & Technology
Dryers
Mixers
Filters
Separators
Evaporators
Blowers
Boilers
Reactors
Coolers
Heat Exchangers
Distillation Columns
Extrusion
Compressors & Condensers
Pressure Vessels
Furnaces & Ovens
Safety & Quality Management
Industrial & Labor safety
Protective Clothing & Equipment
Pollution Management Systems
Water Treatment Technologies
Quality Control, Certification & Risk Management
Automation & Control Systems
Automation Technology
Motion Technology
Instrumentation
Analytical Equipment's
Material Testing & Measurement
Flow Control Systems
Laboratory Instrumentation
Packaging Technology
Packaging & Transportation Systems
Material Handling Equipment
Storage & Cleaning Equipment
Bagging Equipment & Machinery
Labeling Technology
Others
Research & Innovation
Literature, Information, Learning & Teaching Aids
Turnkey Project Consultants & Service Providers
Renewable Energy & Environmental Technologies
Other Engineering Services
Co-located event: ChemLogistics India 
Highlights of the Chemical Logistics Industry:
India is emerging as one of the important destinations for the chemical industry in the world.
There has been a continuous growth in the demand of chemicals in the country.
With growth rate of around12% the Indian chemical industry is the amongst the fastest growing.
Exports contributed to $16.1bn whereas imports were at $24 bn.
Large coastline, land area and the largest rail network provides an immense opportunity to Logistics & Warehousing companies.
With a record footfall the exhibition noticed 250 exhibitors and 10,172 trade visitors from 49 countries, the presence of the senior decision makers from companies of the fine & speciality chemical industry helped to boost the confidence of the low performing economy.
Exhibitor Profile of ChemLogistics India 2016:
Automation & Control Systems
Consultants
Distribution Systems
Environment Standards
Freight Forwarders
Logistics Information Systems & Technologies
Logistics Service Providers
Materials for Storage
Tanks
Containers
Special purpose materials
Others
Material Handling
Ports&Terminals
Quality & Safety Equipment
Storage & Storage Facilities
Supply Chain
Terminal operators
TransportationVehicles&Accessories
Warehouse& Infrastructure