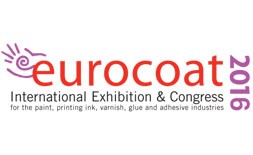 Paris Expo Porte De Versailles | Paris , France | 22-24 Mar 2016
 Eurocoat Exhibition & Congress is the only event for coating professionals in Europe. As the historic gathering of the paint, varnish, ink, glue and adhesive industries, Eurocoat brings together suppliers of coatings, raw materials, equipment and services for 3 days of business and discussion. Eurocoat will be welcoming you in Paris, France, for 3 days of exchanges and business, to shape tomorrow's coatings industries. The Eurocoat trade show will feature an international exhibition, a congress and free networking events.
To reach your highest satisfaction level
Secure your acquired market shares in France, while generating new business
Increase your presence on international coating markets, especially in Southern Europe and Mediterranean areas
Reduce your new customers' acquisition costs
Save time, meet your potential buyers and customers all in the same place
Present your product ranges and your innovations
Generate immediate feedback on your product range
Why we should visit The EuroCoat Exhibition?


The only european event for coating professionals in 2016!


Free access to the exhibition
Find suppliers from the Southern European and North African areas
All the industry branches in Coating, Packaging and Handling Equipment will be represented
The Euroclip Workshops
The opportunity to enhance your knowledge!
Discover a program of workshops, from 8 to 40 minutes, focusing on your business needs and presenting innovative and technical solutions, products or practical uses.
 The Eurocoat Congress
In today's difficult economic situation, it is once again an opportunity to show that our Paint, Varnish, Ink, Glue and Adhesive professions are not lying dormant and are continuing to move forward in developing products and bringing them to market, while respecting the environment and new European standards.
Raw Materials
Coatings
Pigments
Anticorrosion Coatings
Fillers
Additives
Solvents
Dyes
Binders
Chemicals
Other raw materials,
Additives and Admixtures
Inks
Binder
Solvents
Pigments        
Colorants
Additives
Adhesives
Polymers        
Polymer dispersion
Monomers
Resins
Fillers
Solvents
Additives
Plasticizers
Oils
Construction chemicals
Raw Materials
Additives & Admixtures
Laboratory & Production Equipment
Mixers, Dispersers
Agitators
Chemical reactants
Millers
Production engineering
Filters and filtration
Pumps Metering devices, Balances, Weighing systems
Tinting systems
Colorimetry
Packaging and Containers
Liners for packaging
Quality control
Cans, Buckets Drums
Printing, Marking and Coding systems
Primary Packaging Machines
For further information please visit the official website at www.eurocoat-expo.com